Our stylists will help you choose or design your dream wedding dress. And it's only in one day!
A lot of information about sewing a wedding dress in our Atelier. Check how you get ready for a sewing day.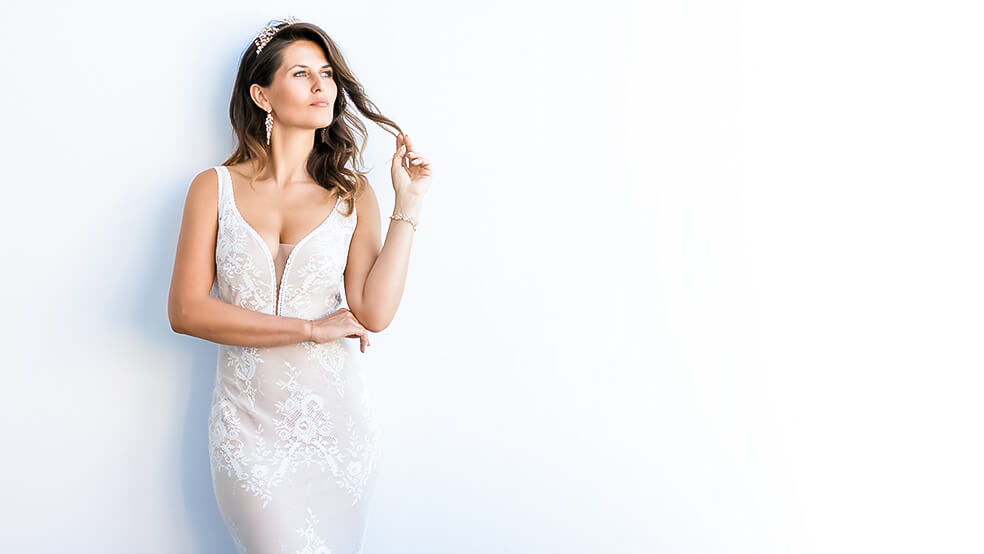 The latest collections of wedding dresses, based on the experience and expectations of brides. They can be freely modified.
more
Wedding dresses for all future brides who value femininity, comfort and a unique look. Find yours or create your own from the available "parts". They are designed so that each of the ladies can choose their favourite fashion and create the one that is perfectly suited to each other and the circumstances of the wedding. Collection dresses:
fit on different types of silhouettes,
are adapted to the height and characteristics,
can be freely modified,
Barcelona collection
A new edition of extremely romantic and delicate wedding dresses. This collection includes designs for women who are not afraid to display their strengths, as well as those modest and subdued.
Porto collection
There are dresses for slim, tall and short women as well as those with more round shapes. There are models ideal for the beach, a ceremony in the barn or in the woods, as well as those more classic for a wedding in a church.
Venezia collection
Venezia wedding dresses collection has been created for self confident women, who are not afraid to stand out and who like to play with fashion. The dresses are made of laces in shades of powder pink.
Santorini collection
Santorini is the collection of wedding dresses, which is dominated by animal and geometric pattern, and the leading color is classic white. There are dresses made of thicker lace as well as ones that are characterized by airiness and delicacy.
See collections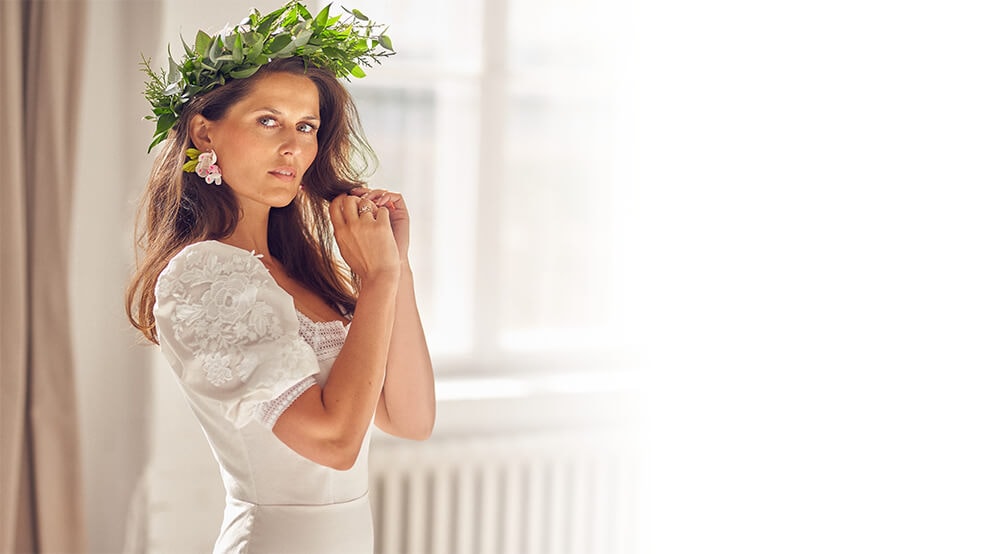 A new collection of wedding dresses with a rustic character, referring to the Polish and Slavic tradition. Delicate, made of natural, ecological materials, cotton wedding dresses.
See Slavica collection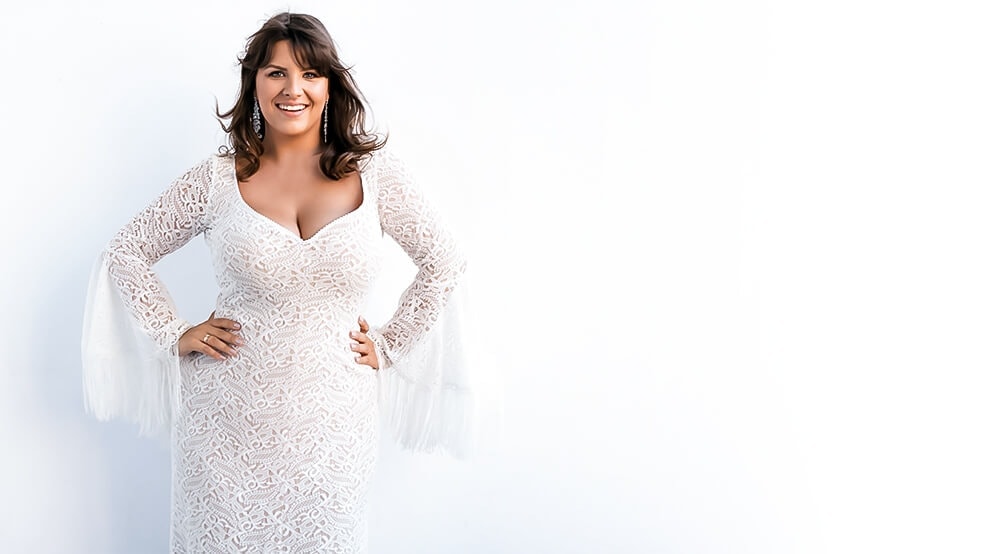 Selected dresses from our collections prepared especially for plus size ladies. see how they look on ladies with more round shapes.
See plus size dresses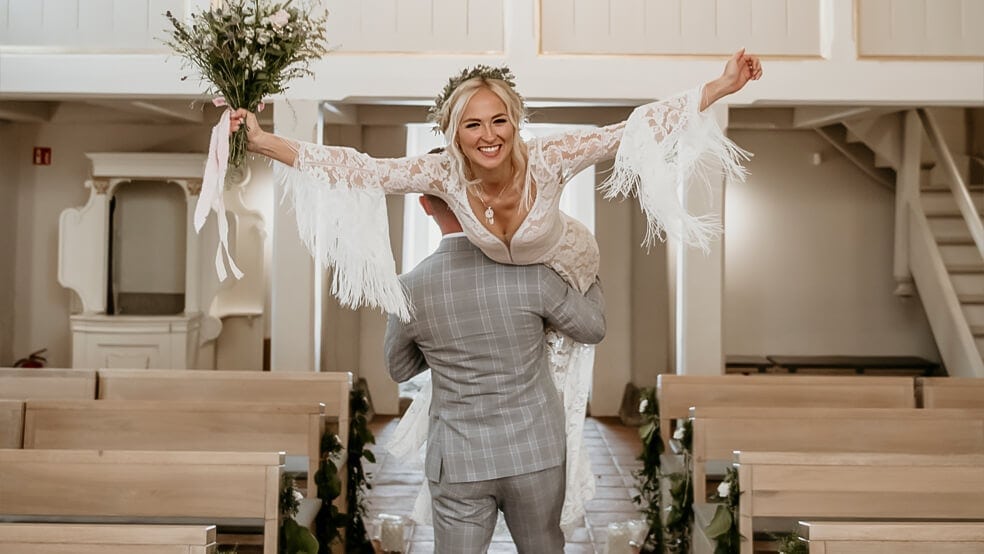 It is a gallery of angels, which stood on my professional path, with whom we provided each other with so much emotion. See my Brides and their wedding dresses.
See my brides
My wedding dresses in the camera of professionals. They are shown in the best edition: on beautiful women, in exceptional places. See and get inspired and maybe you'll find the dress of your dreams here?
more
Boho wedding dresses sessions
Photos are the effects of cooperation of extremely creative people, who like me feel the atmosphere of boho and love wedding dresses in the boho style. It doesn't matter if the wedding dress is simple or lace and richly decorated. A wedding dress must reflect a woman's character, her features; emphasize what is best in her. Then wedding dresses will always be fashionable, universal, and timeless. See for yourself that boho wedding dresses are just like that…
See lookbook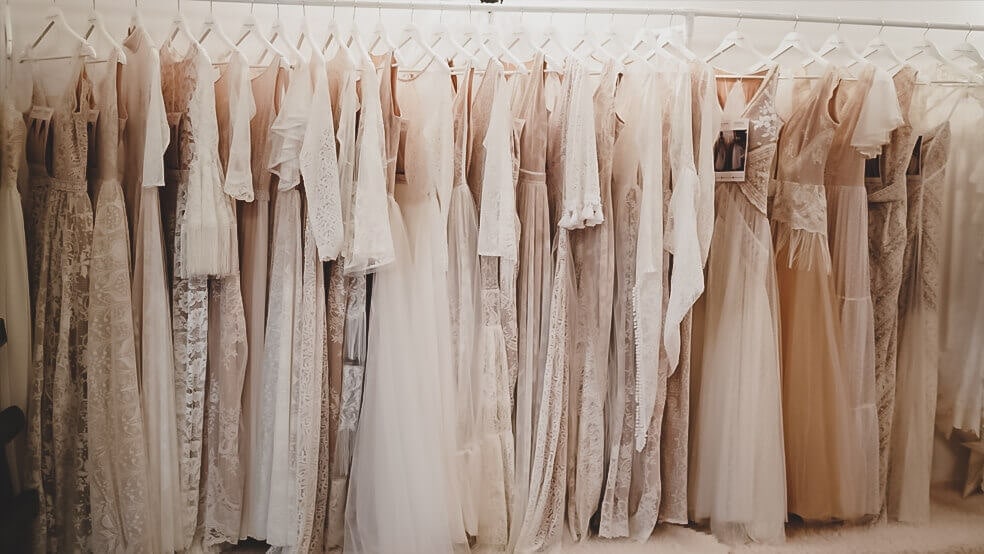 Boho Dresses is a Wedding Dress Salon created by the designer Marta Trojanowska. Her dresses can be described in a few words: comfort, style and uniqueness. The outfits are custom made in one day! Her designs are primarily for women who expect something different and special. This is definitely an innovation on the wedding market. Discover the history of the Atelier and the philosophy of work…
About TheBohoDresses
The most beautiful wedding dresses
For most of us, wedding is one of the most important events in our lives. It is often associated with stress, a lot of work and being lost at some point. We want everything to be like in a fairy tale, and we don't always know where to start.
How do you face one of the most difficult elements of the day, so how do you choose your bridal gown?
Wedding dress – how do you find the right one?
It has become! Your beloved one 'has turned' you into a fiancée. You have now the head full of thoughts and decisions to made… Where and when should the wedding take place, in what style, who should you invite, do you want to stay in the country or do you want to get married in Bali… and A WEDDING DRESS!
Something that most of us dreamed of since our childhood. As you've gone on my website, I can be pretty sure that you are now thinking at this stage. So what should you focus on?
DEFINE THE STYLE
The style in which you want to organize the wedding determines everything. Starting from the dress, through the venue of the ceremony, decor, to the accessories. Here we can choose not only the traditional style or glamor. Boho, rustic or vintage styles are the ones that have recently become extremely popular among brides, who don't only look for a wedding dress. No wonder, those styles are associated with both tradition, simplicity, tenderness as well as with wild freshness, freedom and femininity. They are the contradiction of the classical approach to fashion, associated with heavy corsets embroidered with crystals, multi-layered dresses in the shape of a meringue, a palace, a bit artificial tinsel, and traditional church ceremonies. When looking for the style, the most important thing is choosing the suitable wedding dress.
Therefore you can choose:
A boho wedding dress has been an absolute hit for several years mainly because it is for everyone. The boho style is so broadly understood that it is difficult to strictly define it. A wedding dress in boho style is for sure characterized by lightness, softness, and the world of textures, shades and patterns. It allows for the best modeling of the silhouette and adaptation to all wedding circumstances thanks to the endless possibilities offered by this style. Boho wedding dresses are sewn from many different fabrics, combined with each other to perfectly shape the figure with patterns, shades and textures of lace. There are fringes, cotton tapes, or frills used for finishing. Just because you are not a fan of gypsy dresses does not mean that you will not find yourself in a boho wedding style! It gives so many possibilities that it is much harder to repeat patterns here than in the case of classic wedding dresses.
A vintage dress and a retro dress is something for those ladies who love objects with a soul! For whom it is important that the dress is different from all others… That it has "this something" in it. A retro or a vintage dress is usually characterized by unexceptional details, which are lacking in wedding fashion these days – a stand up collar, buffed sleeves, buttons under the neck, frills. The lace from which they are made has grandmother's patterns or floral motifs in shades of ecru and beige. There are not many women who have loved this style, not many who fit in, but if you are already one of them, you will surely stand out from other brides.
A glamour dress is probably the most desirable position on the wedding market. Most of us want to shine on our wedding day! There is no specific cut nor materials that are used in this style. What matters is that the final effect is phenomenal, unique and that attention of all the guests is focused on us!
A classic wedding dress is an option for more conservative ladies or such, whose husbands want to see them in a modest outfit on this day . Here reigns delicate lace, long sleeves, boat neckline, gently exposed back and pouring bottoms of chiffons or muslin. If you want the dress not to distract the attention from your beauty, make-up, hairstyles and… a husband this is the perfect solution for you!
A princess wedding dress is definitely a choice for those ladies who have been dreaming about their wedding since their childhood and who imagined themselves in a dress with a large, white, tulle bottom with a trailing train. A bodice is usually a corset, which perfectly models silhouette, highlights the waist and shapes the bust. The limitation is the fact that the princess dresses leave little room for comfort and freedom in opposite to boho or classic dresses. However, it seems ideal for elegant parties in palaces and mansions.
SET THE BUDGET
Prices of wedding dresses start from a few hundred zlotys and they do not have any upward limitations. Therefore, once you know what style of dress works best for you, think about the money you would like to spend on your dress. Without this it will be difficult to start a search… We can sometimes fall in love with a model which is completely beyond our financial reach and then nothing else will please us, because all dresses will be compared to 'that one'. Therefore, set yourself a reasonable limit or find out a dressmaker, or a studio which will create a project according to your inspiration at an acceptable price.
CHOOSE THE BEST CUT FOR YOUR FIGURE
The fact that we fall in love with a certain dress is only a half of the success… When we already know what type of gown we like, we still have to check if both the style and – the most important – the cut will suit us! There are a few simple rules, but to be honest,they can't be generalized, as small details can affect the change of of the whole final effect. Among the most popular cuts we can distinguish:
–A-Line wedding dresses are the safest choice for every body type. Thanks to the fact that the bottom of the dress slightly widens downwards our waist seems to be narrower and the hips are masked, so it doesn't matter if they are too big or too small. The proportions that we must keep here play an important role. If the gown goes too wide in the bottom, we will achieve a meringue effect, and if it doesn't widen enough, the dress will stick to the hips instead of masking them.
Fishtail / mermaid. It is made for women with beautiful curves. You might say that ladies with straight hips should avoid this style, but in fact you can make your hips look fuller with a few simple tricks. Around the hips you can use a lace with the pattern thicker than on other parts of the dress, which will catch the eye on it. You can also use clear oblique or arched lines that will optically change the shape of the pelvis.
Meringue dress is a model that requires a slim, shapely figure and at least an average height because it lowers the entire silhouette due to its too-widening bottom.
Airy wedding dress is also a fairly universal model, because thanks to the pouring, delicate bottom and usually a modest bodice, each of the ladies looks gently and feminine wearing it. The type of the fabric from which this dress is made defines our requirements for the silhouette of its future owner – a thin layer of muslin can, for example, would reveal the imperfections of our skin on the buttocks and thighs.
Wedding dress with a corset is – contrary to appearances – not always the best solution. Women with large breasts often think that this is a great solution to support their breasts, but they do not take into account the fact that at such a high exposure the neckline looks vulgar instead of sensual. This is rather the solution for women with a complex of too small breasts and no waistline.
A backless dress is exceptionally sensual and most brides dream to show their back on the wedding day. However you should keep in mind that this solution practically does not allow to put on a bra, so it is rather intended for women with small or very firm breasts.
A wedding dress with a deep neckline is a hit in wedding fashion for several seasons. Many women want to feel sexy and ultra-feminine on their wedding day. No wonder! Here, however, we must also remember that a slashed-to-navel dress, might show the connection of the bra so … we can either get rid of the bra or we can try to sew in cups which do not hold the breast as well as the classic bra. You can also cheat a little by finding special wonderbra models or 'feigning' the depth of the neckline by leading fishing tapes along that go until to the spot where the bra is connected.
CHOOSE THE COLOR
A trend for white wedding dresses has been there since some time ago (yes, not since ever). However, there are many shades of the white color, as well as there are many types of beauty. Each of you should find her tone independent of the trends or of the other people's opinion. Most women suit shades of ecru, less often snow white, which highlights skin imperfections or bruises under the eyes.
Remember that what matters is not only the shade of lace, but also the color of the lining – it can be white, ecru, nude or toffee. The nude lining will beautifully highlight the texture of the lace and it will give the effect of lightness to the entire dress. White lining blends with the lace and it visually flattens its pattern. Thus, it will make your silhouette look more like a column, and the dress will look just like a white block when seeing it from a greater distance or in the pictures .
DEFINE THE MATERIAL
Just a few years ago, we associated wedding dress with taffeta, satin and tulle. Now most designers use chiffon, muslin and lace. There are so many different types of lace that they cannot be generalized. There is a romantic French lace, there is a nude guipure lace, there are thick laces with floral patterns, there is a delicate, elastic lace, there are also lace with geometric patterns. The choice of material determines the style and the cut of the dress:
Lace wedding dress – a solution for every lady! Yes, laces fit all of us- they must be only well-chosen. Keep in mind that one dress can be a mixture of a dozen or so different laces or of several different patterns cut from one lace but arranged to shape the silhouette. The laces give the most possibilities and they forgive most when it comes to the imperfections of the figure.
Streight wedding dress. We usually associate it with a delicate, lace top and a smooth bottom made of chiffon or muslin. And here, just like in the case of the lace dress, both the shape of the dress and the type of lace is very important. Some ladies may look like in a nightgown in a too delicate pattern, while others can be dominated by a too thick lace.
Smooth wedding dress – for ladies with a perfect shape, without any imperfections. From a distance and in the pictures, no patterns will attract attention – you will only see the outline of your figure. Of course, you can cover the body with a thick layer of satin-taffeta and put a crimping body underneath, but that's probably not the point…Of course, there are a few exceptions in this variant too, because if the dress is all made of a delicate, ethereal fabric and it does not fit closely to the body, and its neckline is in the shape of an envelope, it can make the whole silhouette look very ethereal and delicate.
Wedding dresses – what is new in wedding fashion?
Every few years, trends in wedding fashion, as in all areas, change. There are some rules that stay with us for longer – for example the color. White has been on top in wedding fashion in Europe for almost 200 years. Its shades change and also pastels break in with small steps, but it will take many years before it will be completely displaced by another color. In the past, a white dress was considered funeral, now we associate it with purity and innocence. What has changed the most in wedding trends is the dress style as well as its softness and lightness. We are already moving away from the great ball gowns in which the bride needed help to get out of the car or to use the toilet. We also get rid of corsets, in which it was sometimes difficult even to breathe. Everything tends towards delicacy and airiness – that's why the most popular are:
Boho style wedding dresses. These are dresses whose main features are softness, lightness, convenience and comfort of wearing! And also a wealth of textures, patterns and shades. Thanks to such solutions, not only your silhouette will look slimmer, softer and more sensual, but you will be able to dance at the wedding for many hours, or to pack your wedding dress in a suitcase and take it to an intimate wedding in Zanzibar.
Nowadays brides have fallen in love with boho dresses so much that it would be rather difficult to persuade them to return to the metal hoops under tulle meringue.
Bridal boutique- how do you prepare for the visit?
Once we know what our dream wedding dress should look like, we can go for it. The offer of numerous wedding shops is wide, but you will probably visit a few of them before you find what you are looking for! How do you search for it in a way that it is not a torment or unnecessary stress? Prepare for the visit:
The most important for the salesman or for the tailor of your dress is to know which style you like. It is hard to start a search without it.
decide how much you would like to spend on it
You should know how much more or less you would like to spend on your wedding dress, so that the seller or the designer knows which options he can offer.
find your advantages and disadvantages
Each of us has features that we like to show and imperfections that we would prefer not to expose. A good salesman, stylist or tailor will immediately see what is worth highlighting and what to draw attention away from in your body but it certainly won't hurt if you also mention that.
tell the designer about the wedding ceremony circumstances
It is important that you choose a dress that suits not only you, but also the place and the conditions on the ceremony. You don't want to walk with a train on the muddy alley or freeze in the winter in a muslin dress.
There is no rule of thumb when it comes to the shape of the bra you should wear for the visit, because everything depends on the cut of the top of your dress. If your arms are bare, it will be a balconette bra, if the dress is backless then a bra with a lowered clasp, if it is boat-shaped with a delicate v-neckline on the back then you can put on a classic bra model. There is just one thing to be sure about – its color should be as similar to your skin tone as possible, not white or black.
None of us likes shopping on a bad look day. It works in the same way when buying a wedding dress – no matter how beautiful the dress will be, you will only see how bad you look today. So make sure you feel comfortable in your own skin on that day!
If you haven't bought them yet, take at least shoes which height of the heel is similar to the ones you will wear on the dance floor. It will help choose the right lenght and the model of the dress. Keep in mind that the high heel will also influence your figure proportions. If you plan to change the shoes to the flat ones after midnight, fit the dress to already to them, otherwise you will stumble over the rest of the wedding.
take an unbiased friend with you
If you are not able to totally rely on the salesman or on the stylist, take a mum, a friend, or an aunt – whoever you want – with you. Remember that they should be totally honest and impartial. The worst thing you can do is to choose a dress that doesn't suit you, but it is a dream of your friend or just because your mother said that this model is the most appropriate.
be assertive and say what you think
Remember that the more information you provide to the person who creates the dress for you, the better it will suit you. So speak out your mind, say what you like or dislike. Do not be afraid – those people are there for you.
What makes the Boho Wedding Dress Boutique in Warsaw stand out from the rest?
Boho Dresses is an atelier where unique made to measure wedding dresses are created. You will find here not only ready designs like at the rest of the wedding dresses boutiques. In this place, you will design your own dream dress yourself. You can make your bespoke outfit choosing the top and the bottom according to your own preferences. There is also the possibility of sewing the dress from the beginning starting just with the inspirations. You can even bring your own fabrics. And if your dream is your grandma's or mother's dress remade to suit your personality but keeping its unique character, we will design together a wedding dress perfect for you. What is the most important is that the whole process of tailoring will take from one to maximum two days. If you wish to experience the marvelous adventure of creating together, feel free to come. It is enough to spend one day to enjoy the wedding dress that is exactly as you dreamed it to be.
What does tailoring a bespoke wedding dress look like?
We are not a traditional shop where you choose a ready model and you wait for it half a year, showing up from time to time to try it on. We sew our wedding dresses in one or two days in the presence of the future bride. We realize that it is not common on the wedding market, so we know that you might have doubts if the quality will be satisfactory or if it is really possible to sew a gown in one day. We would like to dispel your doubts in the section 'Any questions?'.
This is what the tailoring process looks like:
When you enter the atelier Boho Dresses I personally welcome you and although you have already described me your preferences via e-mail, I ask you one more time what dresses you like the most. Those will be the first models to try on – mostly to see how your silhouette and your beauty presents in any dress.
This is the moment when the best comes. We decide what we want to highlight and what to mask. I suggest you different solutions, which are – in my opinion – the best for you. We fit various bodices, bottoms, few types of sleeves, we will change the shadow of the lining, add the strip in the waist…
When we figure out the best concept, I take your measurements and I let you free from the studio for a few hours. When you come back to me for a try at lunchtime, your dress is ready in pieces for fitting. Then we set all finishes, length, stitches, etc. It is also the time for comments. Again, you have a few hours off to come back at the end of the day to get your wedding dress ready packed in a cover.
It will be probably different from the one you primarily came to get, but for sure the one you will finally choose yourself and at the same time the one that will look the best on you and in which you will entrance everybody.
To summarize, the most important rule by choosing a wedding dress is that this dress is FOR YOU, so you should like it, you should feel comfortable wearing it, and you will probably spend the whole night in it. Don't let yourself be sold anything that you will not be convinced to, or that will anyhow limit you or not comply with your rules. And remember, when going to the boutique or to the atelier, you do not have to know what you want. It will all get clear during fitting. Then you will see what style, what material and what cut suits you best. It rarely happens that what you fall in love on the hanger will be the best for you, so do not insist on the choice and let the specialists work. Sometimes you need to fit on a few types of cut to see how they influence the general look of the figure. It often happens that you would like to change something in each of the models and it is not always possible at the traditional shops. I created my atelier having that in mind. Here you can freely rearrange the elements.
When you already start going crazy about the gown and you cannot stop thinking if this is the one and if you consider buying another dress, remember that the dress is not the most important thing on the wedding. What matters is you and your husband! And he should like you no matter what model you have chosen!