I love that moment when the bride is trying her finished wedding dress. This moment of emotion, tears of happiness and goodbye. When I leave my wedding dresses salon I know that what I do makes sense as it makes them happy. I'm happy to be a part of something beautiful.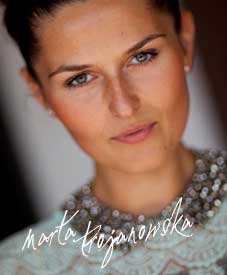 Why wedding dresses?
My name is Marta Trojanowska. For years I have been designing and sewing clothes and accessories. For several years I have been designing wedding dresses. I am absolutely in love with the boho style that inspires me – in my wedding dresses I introduce elements characteristic of this style, such as delicacy, lightness, richness of decorations, neutral colors. How it all began? One day a friend of mine came to me asking for help. A few days before the wedding she was without a dress – she dreamt of a lace dress, a bit like boho style, and on the Internet she found only photos of inspiration – not for sale or expensive foreign brands, not for sale right away. And so, on two afternoons, the first wedding dress was made out of pieces of clothes, tablecloths and grandmother's lace! Boho style wedding dress. It turned out that it is possible to create a beautiful, unique, and perfectly matched to the silhouette wedding dress in a very short time. I received dozens of requests to sew something similar. And so I started to sew wedding dresses.
Fashionable wedding dress
I don't hide the fact that I was a bit lucky. Shortly after I started sewing wedding dresses and set up the Boho Dresses website, this style became extremely popular. Future brides more often abandoned traditional classic dresses, resigned from heavy corsets and shiny decorations, and began to look for more delicate and, in my opinion, more feminine wedding creations. Boho and rustic style has become the leading style in wedding fashion, and wedding dresses in boho style are very fashionable. Now that fashion is changing, I try not only to follow trends, but also to create them, creating innovative designs and fashionable wedding dresses. I assure you that I will surprise you again.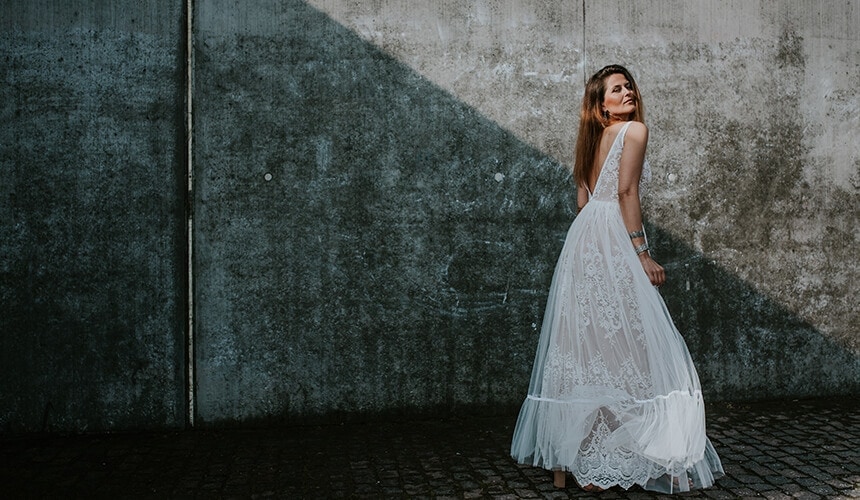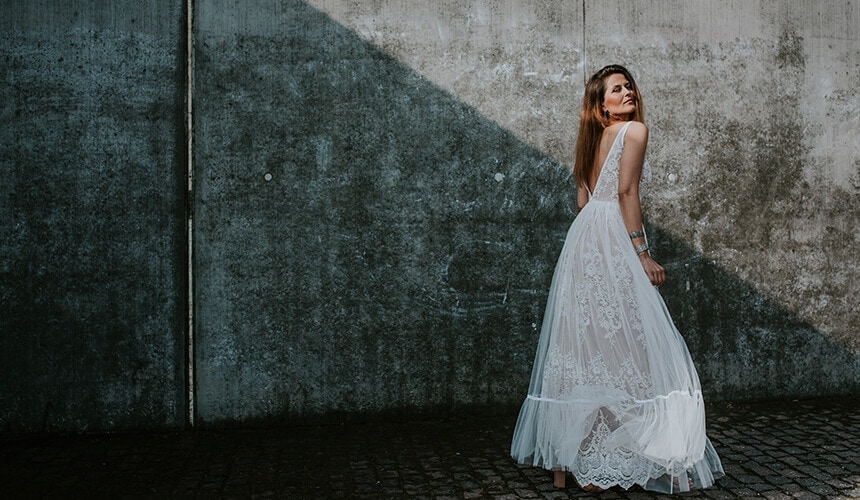 Perfect wedding dress
For years I have been listening to the lamentations of my married friends and now clients on how difficult it is to find the perfect wedding dress, how many salons they visited before they came to me without finding the dress of their dreams. In most cases, it turns out that you don't like anything you can find in a typical wedding dress salon. If you like it, it fits badly. As your wedding dress likes and fits well you have to wait half a year for your size, corrections and changes. You need to visit the wedding dresses salon many times in order to make fittings, and there is not always enough time for it, or we do not want to devote so much time to it. In order to make the task easier for the future bride, I try to shorten the time of waiting for the wedding dress to a minimum by sewing it in one to two days. Yes, it is possible! Not at the expense of quality, just because during the day of sewing a wedding dress I devote all my time to it. Unlike in typical wedding salons, where 99% of the time is spent waiting, and during these many months only a few hours to work on the dress.
Wedding dress in one day!
Beginning my adventure with the wedding industry I wanted to create something special, something that I haven't found on the wedding market, something that will be a breath of freshness, will distinguish Boho dresses from other wedding dresses salons. These are custom made wedding dresses, on the client's body and together with her. And that only in one or two days! It turned out to be an ideal option for future brides not only from Warsaw, but also visitors. They are sure that a two-day visit to my studio is enough to enjoy your dream wedding dress, and the rest of your strength to devote to other matters related to the wedding! This is how the Boho Dresses brand was created, under which I started to sew wedding dresses in my studio, and now also represents the wedding dresses salon located in Warsaw.
Collection of wedding dresses
Realizing that not all brides will be willing to make a decision about sewing a wedding dress from scratch, they need inspiration and specific solutions, I wanted to make it even easier to take a decision related to the choice of wedding dress. The collection of wedding dresses has been created, thanks to which they can better illustrate how they will look like in their wedding dress. But this is not an ordinary collection. This is a set of top and bottom models, which can be freely combined, giving you an infinite number of combinations! You can create a gentle wedding dress with light materials, but by replacing and changing the order of layers and accessories of the dress you can create a classic wedding dress or even a princess. Individual sewing of a wedding dress is related to the fact that it is created during sewing. At the collection, after the first fitting during sewing, you immediately know what it will look like. And also, as in case of individual wedding dresses, this process still takes one day!
I invite you to my wedding dresses salon
I would like to share my passion with you. A passion for creating, sculpting, improving the silhouette with pieces of materials, a passion for making people happy, creating unique wedding dresses, adjusted not only to the body, but also to the character and circumstances of the wedding. Not only sewing your dream dress, but also conversation, spiritual support and smile. This site is me, my work and some of many wonderful clients, who shared with me the impressions of our joint sewing of a wedding dress and of their wedding. You will also find here inspirations that drive me to work. I invite you to my land!